What is your name and company?
Jada Robinson – Bright Minds STEAM Studio

Where are you from originally and how long have you lived in Kingwood? I'm
originally from Lake Charles, LA and have resided in the area for almost 6 years.
Child(ren) and Age(s)? Callie – 4 and Bella Rose – 3
One thing people would be surprised to know about you…I Love to eat! Seriously. It's
my weakness..I love trying out new restaurants and catching up with friends over a nice meal.
What is your go-to activity for yourself for pampering or for fun?
Making a trip to
Crave for their red velvet cupcakes and a visit to the spa.
Funniest shortcut/routine for helping you through parenthood? I have condensed
my makeup routine to 2 min- in the car, at the red light…sooo if you see me and there's a little
mascara on the top lid..just turn a blind eye- I'm sure the light turned green in that moment!
Are you involved in a business venture, a local organization, a creative endeavor,
or in the corporate world? Please share!
As an Educator, my passion has always been to
prepare our children with the tools necessary to be successful for the future. This pandemic has
given me the burden and drive (especially as a Mother) to provide a way for children to still be
given an opportunity at a quality learning experience, without the added stress parents can face
by sending their children to a large school setting. After being in Education for over 10 years, I
decided to open my own STEAM (STEM + Art) Studio for preschool crowd!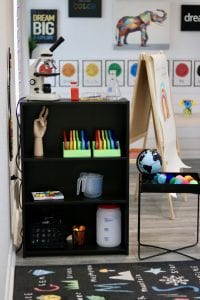 How has this community been instrumental in getting you to where you are now?
The past few years I was an Elementary Math/Science ALT for Humble ISD. I learned so much
in regards to best teaching practices, the importance of community partnerships, the benefits of
real-world experiences, and also had the opportunity to network with some of the best families
and Educators around!
What is the best advice for juggling mommyhood and running a business (or
volunteering, working, etc)? In regards to the business, prioritize tasks, and ask for
assistance when needed. Of course it's easier said than done to 'leave work at work', especially
when there are incoming emails after hours, etc. But my most important consideration is that I'm
'present' with my family while at home.
What would you tell the old "You" before you had kids? Don't be so hard on
yourself. You're navigating through this life one day at a time. There will be obstacles,
but you have the tenacity to overcome every single one.
What is your proudest mommy moment? Early on, my daughter had a hard time
communicating when she was upset or frustrated. I would gently coach her through
those tough moments while holding her hands to let her know I was there with her to
help her get through it. One day she told me she loved me, and I curiously asked why to
hear her response. She replied, " You make all my angers go out, and you love me so
much" Of course, I cried. In that moment I realized how powerful and significant those
times were, and how she equated that with my love for her.
Greatest gift about being a mom? The opportunity we're given each and every day to
put the needs of others over ourselves and make a difference in the lives of others.
What a humbling honor to know I have the chance at raising the future generation of
kind, intelligent, and loving leaders.
Best mom hack that makes momming easier? Letting them gain independence! I
didn't realize how much I was enabling my daughters to rely on me for simple day to
day tasks. The mom in me wasn't ready to let them be a 'big girl' but once I relinquished
control, it made getting ready for the day so much easier!


What's your favorite part about what you do?
I love that we learn, and have fun
while doing so! At Bright Minds, students are exposed to learning experiences that
challenge them to think critically on a daily basis, while still allowing for individual
creativity. It has been incredibly rewarding to see the same engineering thought process
of problem-solving transfer to real-world situations within the classroom, and beyond.
What is your favorite thing to do in the HKA area?
I love visiting the local Farmers Markets to support small businesses, and connect with the local food artisans in the
area.
Bright Minds STEAM Studio
www.brightmindssteam.com
Facebook www.facebook.com/brightmindssteam
Instagram www.instagram.com/brightmindssteam
@BrightMindsSTEAM