I have been wanting to get our kids a trampoline since I saw the Spring free ones 2 years ago while shopping for a swing set at Tree Frog Swing Sets. At the time we had an almost 2-year-old and newborn and it wasn't the right time. But we knew we would always go to Tree Frog Swing Sets because of their customer service and the quality of their products.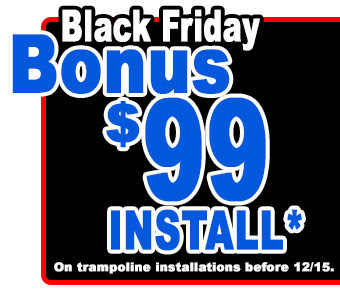 If you aren't familiar with Tree Frog Swing Sets, they are a Houston based, national company with multiple locations throughout Houston. Houston customers will be dealing directly with the manufacturer. Did you know they sell other things besides swing sets? Yes, Swings Sets, Basket Ball Goals, Rubber Mulch, Shade Structures, and Trampolines and more. They have been installing Springfree Trampolines since 2008. They are the longest retailer of Spring Free trampolines in our area. The best part is they are run by a husband and wife team, who understand the importance of families creating memories together outside.
When you first arrive at Tree Free Swing Sets you are greeted with a big smile from a sales rep who is very knowledgeable of all the trampolines and swing sets. He will ask you a few questions to get a better idea of exactly what you are looking for. He will then give you a tour of the different swing sets and trampolines. Mom and Dad don't be afraid to try everything out alongside your kiddos. In fact, they want you to. You can actually try three different brands of trampolines at Tree Frog too. Don't be shy to ask all the questions you want, because they can answer every single one.
With two small children. One of who is a very active little boy. Choosing a Spring Free Trampoline was important to me because of the safety factors. I knew right away this was the trampoline that I wanted for my kids. Besides the trampoline being safe, I knew the trampoline would last for years to come because of the quality products  I know, not all trampolines are created equally. There are a variety of shapes, and sizes to choose from to fit your family and budget. But Tree Frog is there to help you make the best decision for your family.
Why we chose Spring Free Trampoline from Tree Frog Swing Sets:
-No Springs- Which means no fingers get pinched
-Hidden Frame- No hard metal parts for a jumper to hit; stable frame, heavy enough to support jumpers
-Flexible Net-Keeps the jumper on the trampoline without hurting them
-Quality of all products- learn about the company you are buying from, ask questions
Let Tree Frogs help you get the entire family outside – moving, talking, and enjoying the fresh air. Invest in your child's future by giving them the tools for nonstop fun and healthy living, and year after year, you can trust Tree Frogs' high-quality outdoor swing sets and playsets to build strength, boost confidence, and develop the imagination. They craft premium products for outdoor play with quality wooden swing sets that satisfy the highest standards.
*This was a collaboration with Tree Frog Swing Sets, but the thoughts and ideas were all my own*